Managing Your Active and Covered Employee List
The active and covered employee list should be managed on a regular basis. Managing this list on a consistent basis ensures that employees who are no longer with the company, out on medical leave, etc. will not be selected during random selections. Not managing your roster can cause inactive employees to be selected for randoms. This will require random selections to be cancelled and will put your company at risk of being out of compliance. The cancelled tests will prompt our system to pull additional tests the next quarter to ensure the annual required percentage is met. 
To manage your participant list, follow the below steps:
1.    From the home page, click on Active and Covered Employee List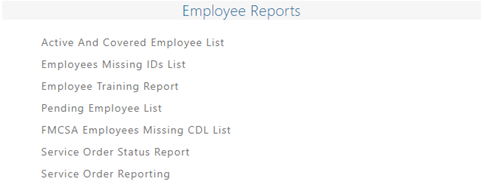 2.

    

Select the correct pool (if multiple)

3.    On the right-hand side, click on "Manage Pool"

4.    Click on "Terminate from Company" for the employees that need be removed

The difference between removing the employee from the pool and terminating from the company is that if the employee is removed, it only removes them from that specific pool. If you terminate them, it removes the employee from all pools and marks the employee as terminated.
If removing the employee also involves closing out a test, please refer to the "Closing Random Selections" SOP for guidance. 
If you would like to add an employee to the pool, please refer to the Non-Random Drug Tests Authorization Form Self-Service guide to create the authorization form for the drug screen.