Did you know that DISA provides on-site/mobile services?
Reducing time, money, and hassle, DISA offers on-site services at all of our service centers. Employees who remain on-site to complete drug and alcohol testing, as well as occupational health services, keep businesses running smoothly and efficiently by getting them back to their duties quickly. Our solutions can be customized to meet the needs of different industry and safety standards.
DISA Offers Three On-Site Solutions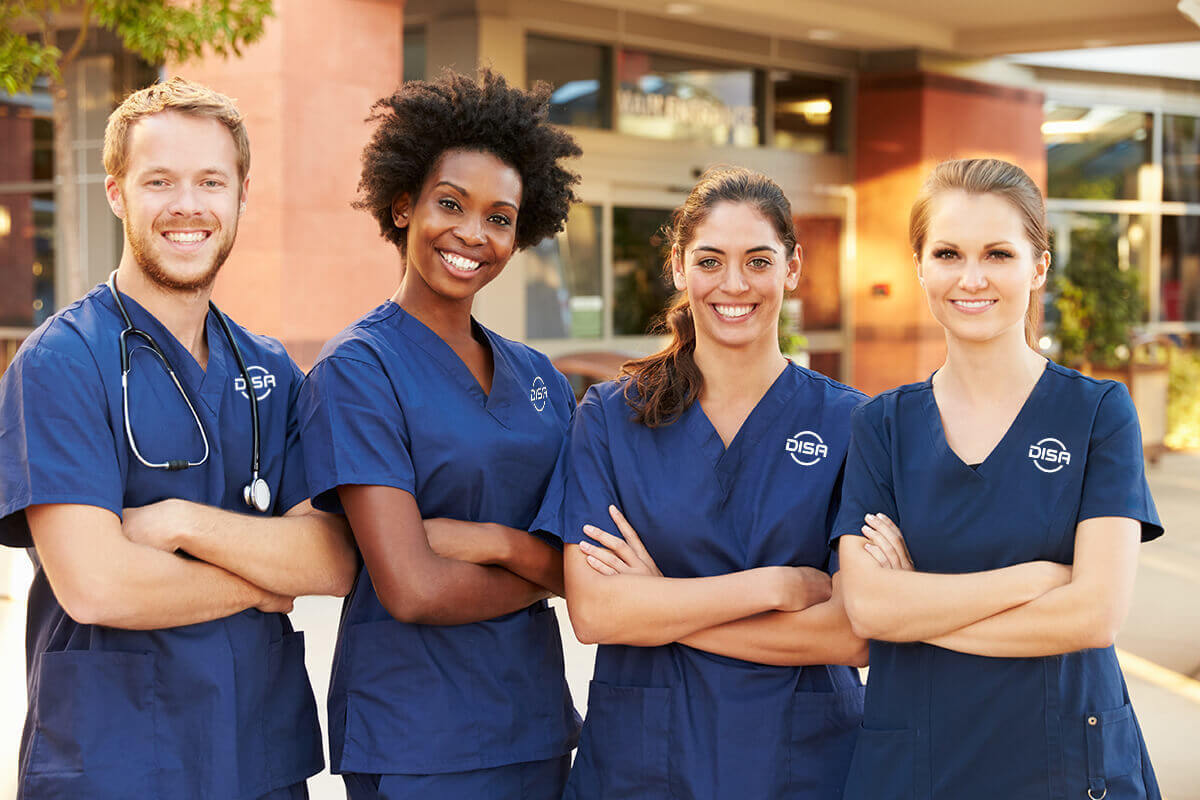 DISA team members are highly qualified and trained under the strict guidelines of 49 CFR Part 40, and our teams can be ready to deploy at a moment's notice. Upon arrival, our team will make sure that the collection area is clean and free from the possibility of cross-contamination while maintaining the integrity of the company and the privacy of the donors. We are capable of serving customers at an industrial facility, construction site, warehouse, heliport, airport, dock, aboard a motor vessel, or on an offshore platform; we have their needs covered on or offshore.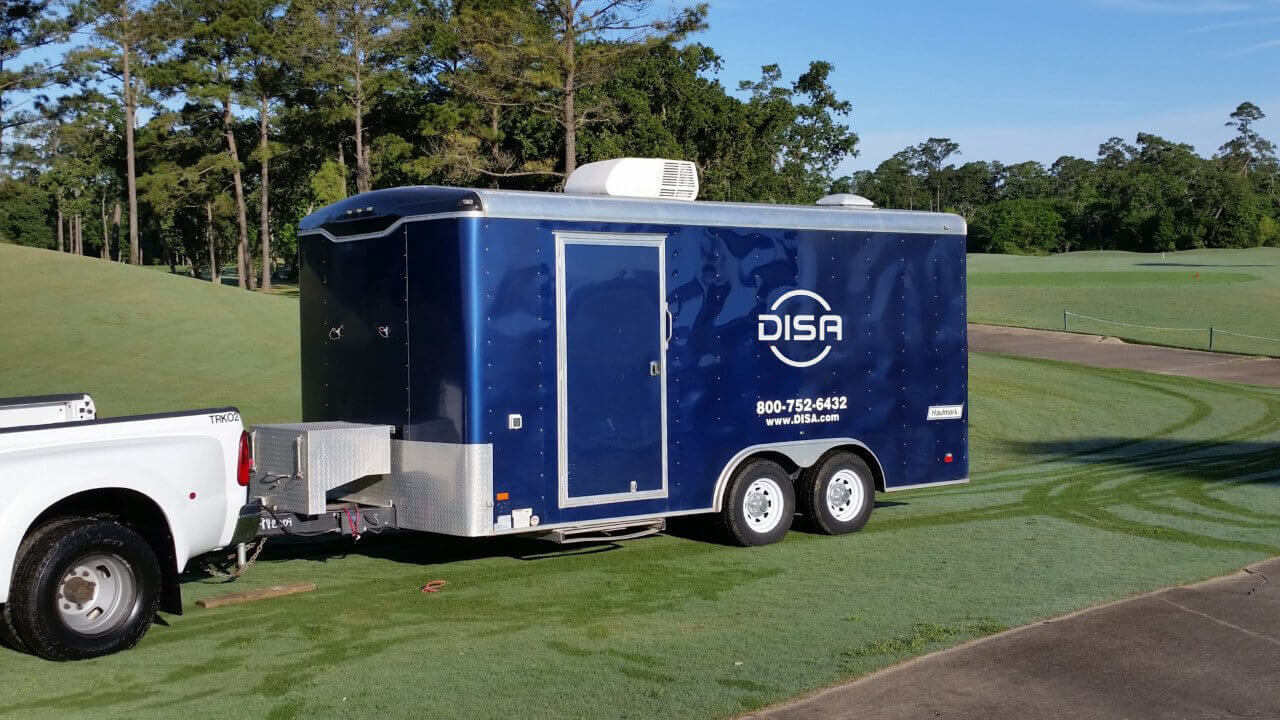 DISA has more than 25 mobile collection units, including several that can test multiple individuals simultaneously. Our short-term mobile collection units are most commonly used for random drug and alcohol testing (especially during turnaround season), when testing large groups of employees at the same time, and at new hire orientations. If companies have a lot of employees or contractors needing to test for an upcoming project, this option is a significant time-saver.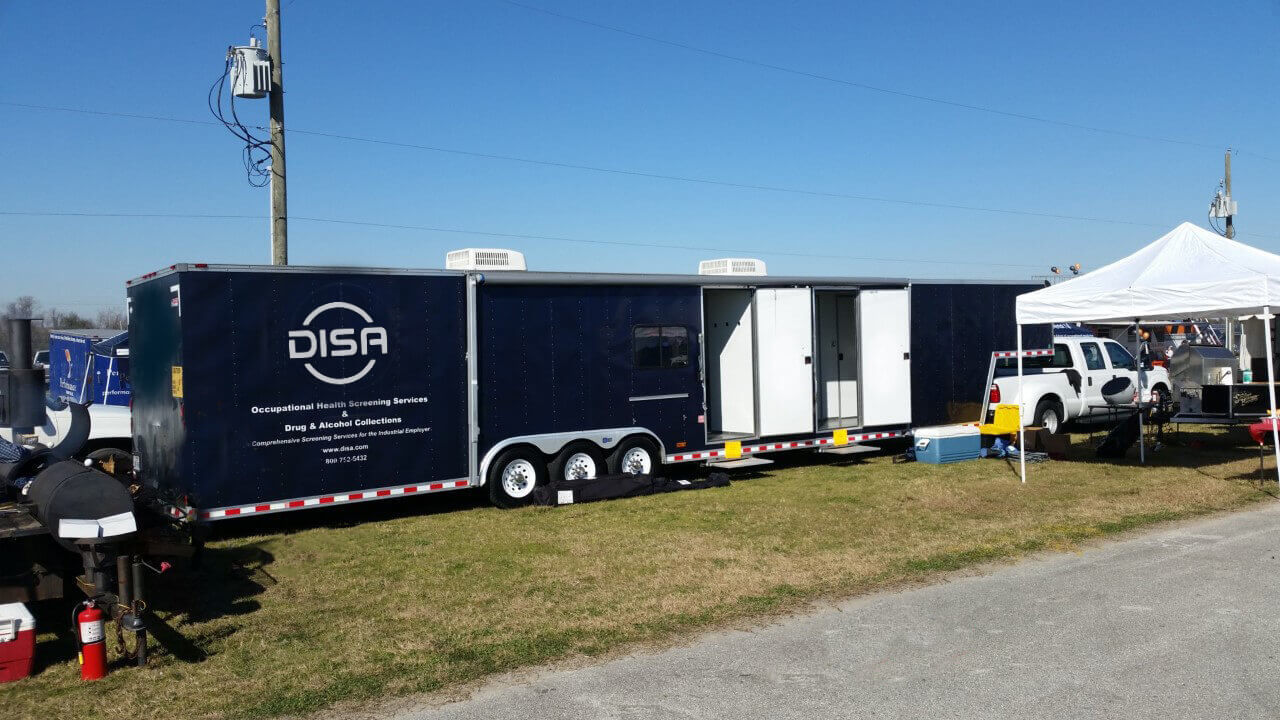 Some customers prefer to have on-site collection capabilities at their disposal year-round. DISA offers a long-term solution that can remain on-site at their business for however long they may need it.
What services are offered?
DISA's on-site services can be customized to meet the needs across many safety-sensitive specific job industries, creating a safer, more productive workplace.
Our services include:
Urine, Oral Fluid, Hair Specimen Collections
Evidential Breath Testing (EBT)/Breath Alcohol Testing (BAT)
ECCF Enabled Collections
Point of Collection (POCT)/Quick Tests *with lab confirmation testing
Pulmonary Function Testing (PFT)
Audiometric Testing
Biometric screening
On-site medical staff services 
DISA also offers on-site medical services and medical staff, helping maintain compliance while also preventing an interruption in workflow by providing medical care without having to take employees off-site.
Our on-site medical services include:
Bloodwork
Drug testing
Physicals
After-hours call services
Education/training
Vaccinations (excluding Covid-19)
Respirator fit testing
Additionally, the following services are performed in Pennsylvania for fixed-site locations only:
Preventative care
Return to work programs
Injury and illness care
Disability claims
Emergency and non-emergency medical care
Tracking and maintenance of all medical supplies
Workers compensation claims
Our services reduce employee downtime as they remain on-site to complete drug and alcohol testing, improve costs by eliminating travel time, expenses, and liability, and reduce opportunities for employees to try and cheat.
Services Include:
Asbestos Physical
Audiometric Testing
Chest X-Ray 1 view (B Read)
Chest X-Ray 1 View (PA)
Chest X-Ray 2 View (PA & LAT)
Department of Transportation "Look-Alike" Physical
Department of Transportation Physical
Electrocardiogram
Electroencephalography
Hazardous Material Physical
Lab Blood - Chem 23 Panel
Lab Blood - Complete Blood Count
Lab Blood - Comprehensive Metabolic Panel
Lab Blood - Ferritin
Lab Blood - HbA1c
Lab Blood - Lead w/ZPP
Lab Blood - Lipid Panel with Glucose
Lab Blood - TB Blood Test
Lab Urine - Urinalysis
Labs - Heavy Metals
Lumbar X-Ray
Medical evaluation Questionnaire
Merchant Marine Physical
Oil & Gas United Kingdom Physical
Physical
Physical Abilities Exam
Pulmonary Function Testing - Spirometry
Respiratory Fit Testing
Silica Physical
TB Skin Test (PPD)
Travel Consultation
Travel Meds (Vaccinations by country)
Urine Dip Stick
Vaccination - Hepatitis A
Vaccination - Hepatitis B
Vaccination - Japanese Encephalitis
---
For more information on DISA's On-Site and Mobile Collection services and assistance, contact us today.