Did you know that DISA provides long-term drug testing methodologies?
Long-term drug testing, such as hair testing, is regarded by many as the best indicator of repeat drug use since it can detect repeat drug use up to a 90-day window. Because hair testing has a wider "detection window," it eliminates the opportunity for people to abstain for several days prior to being tested to avoid a positive test.
By implementing a long-term methodology like hair, alongside a short-term methodology (e.g., Urine or Oral Fluid), employers have historically identified 2-3 times the number of drug abusers*. This combination of methodologies eliminates testing gaps while ensuring employers make the most informed decisions and build a culture of safety at their workplace.
*Citing historical positivity rates for DISA's safety-sensitive DCCHA and DCCHT consortiums.
How is hair testing conducted?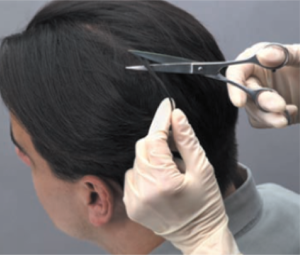 When a donor is selected for a hair test, an indiscriminate sample of hair is collected under direct supervision.
The hair is typically collected from the head but can be sourced from other areas of the body, such as the arms, legs, armpits, etc.
Hair testing is most commonly used for pre-employment and random drug testing policies but can be used in other scenarios as well.
Hair tests can detect all drugs in a traditional 5-panel drug test:
Marijuana
Cocaine
Amphetamines
PCP
Opioids
What are the benefits?
Available with or without Random Testing
Significantly Higher Positivity Rates When Compared to Historical Averages
Can Be Combined With Short Term Methodology to Eliminate Drug Testing Gaps
Wider Detection Window Identifies Lifestyle Usage (from 7 - 90 Days)
Best Indicator of Repeat Drug Use
Direct Observed Collection Prevents Tampering
Resistant to Evasion/Adulteration
Non-intrusive Sample Collection
---
By taking advantage of our multiple testing methodologies and expanded drug panels, our tools allow employers to stay ahead of the evolving demand of workplace substance abuse prevention.