Each year, millions of drug tests and background screens are ordered inside DISAWorks. Our customers count on DISA to ensure both the security of their data and the safety of their workplace. While DISA continues to evolve to meet our customers' needs, innovation remains a top priority, and in 2018 we were proud to release DISAWorks 2.0 for our customers.
With DISAWorks 2.0, we improved its pre-existing functionality, made it faster, more stable, and more secure, while also making it more user-friendly and easier to learn. Developed and customized to meet the requirements of our unique and diverse customer base, 2.0 helps employers more efficiently track and manage their safety programs. Now, users can customize an all-new dashboard, add role specific widgets, run saved searches, reprint eCCFs on demand, and more!
"DISAWorks 2.0 marks the launch of DISA's next-gen platform. It is designed using and built on, modern architectural patterns that help support and solidify DISA's position as an enterprise leader in the employee screening industry." - Rich Patterson, Chief Technology Officer
With more than 15,000 customers using DISAWorks 2.0, we knew that creating a user-friendly and intuitive solution was paramount. That's why DISA is utilizing WalkMe to make the on-boarding process completely hassle-free!
WalkMe is a self-guided training system with over 45 scenarios inside DISAWorks. Users can immediately begin using DISAWorks 2.0 without having to look up help documentation, call customer support, or spend time guessing where to go next. The same technology is used to assist with training and education by industry-leading companies like AT&T, Amazon, PayPal, Phillips 66, and others. As a leader in employee screening, we knew it was our responsibility to provide our customers with best-in-class training and support tools.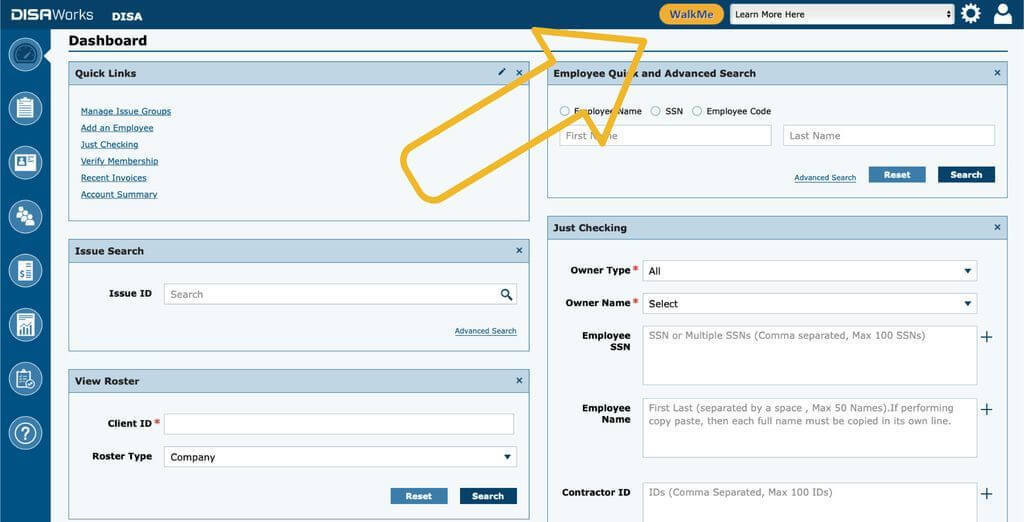 Are you an employer and still have questions regarding employment screening?
DISA can help! Get answers directly from DISA's subject matter experts with 'Ask DISA'
Visit www.askdisa.com to ask your questions today.
About DISA Global Solutions
Founded in 1986, DISA is the industry-leading provider of employee screening and compliance services. Headquartered in Houston, with more than 35 offices throughout the U.S. and Canada, DISA's comprehensive scope of services includes drug and alcohol testing, background check, occupational health, and transportation compliance. DISA assists employers in making informed staffing decisions while building a culture of safety in their workplace.