The Electronic Logging Device (ELD) rule went fully into effect April 1, 2018 and has since been making positive strides in the transportation industry. The rule enforces drivers who are required to log Hours of Service (HOS) records of duty status (RODS) to use an ELD. According to the Federal Motor Carrier Safety Administration (FMCSA), since going into effect, "less than 1% (4,720) of all driver inspections (559,940) have resulted in the driver being cited for operating without a required ELD or grandfathered Automatic On-Board Recording Device (AOBRD)."
Following its initial soft roll out in December 2017 where drivers had the time to acclimate to ELDs without a full enforcement, the ELD mandate showed violation rates dropped significantly from 1.19% in December to 0.83% in January. Another significant drop, down to 0.69%, occurred once the hard deadline went into effect in April.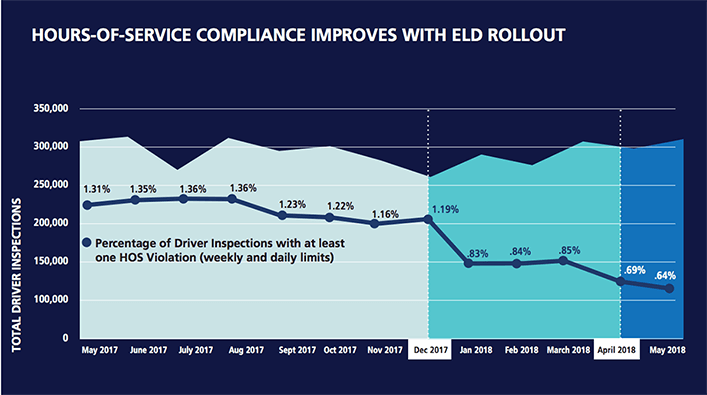 The FMCSA's statistics show the positive impact that the ELD mandate has had since going into effect. This in turn stirs conversation for future bills, like the Honest Operators Undertake Road Safety (HOURS) Act, which will use the data derived from the ELD mandate to improve truck safety and supply chain efficiency.
How DISA Can Help As rules and regulations continue to change, it's important to adapt to new policies and maintain compliance. DISA's Transportation Compliance (DTC) reporting delivers a distinct user experience for both DOT and non-DOT regulations and standards. Our Hours of Service log
Are you an employer and still have questions regarding employment screening?
DISA can help! Get answers directly from DISA's subject matter experts with 'Ask DISA'
Visit www.askdisa.com to ask your questions today.
About DISA Global Solutions
Founded in 1986, DISA is the industry-leading provider of employee screening and compliance services. Headquartered in Houston, with more than 35 offices throughout the U.S. and Canada, DISA's comprehensive scope of services includes drug and alcohol testing, background check, occupational health, and transportation compliance. DISA assists employers in making informed staffing decisions while building a culture of safety in their workplace.