In 2018, the opioid epidemic was at its peak with prescription pain killers becoming a gateway drug leading to drug abuse of fentanyl and heroin. After three waves of opioid overdose deaths, which saw drug abusers jump from opiates to fentanyl then heroin, we're now entering the fourth, which is methamphetamine. As legislation enforces new opioid laws, the opioid epidemic is causing an increase in methamphetamine use.
The Center for Disease Control and Prevention (CDC) reports that although death rates have decreased in 2018 from 2017, data reveals a trend in the increase of fentanyl and meth use. As doctors begin cutting back on opioid prescriptions, the price on the streets are increasing, which is leading users to turn towards cheaper alternative drugs, such as fentanyl, heroin, and meth.
"We've seen three waves – we're very concerned about the fourth wave and getting ahead of it, and that's methamphetamine," said a senior administration official at The Department of Health and Human Services (HHS).
HHS reports that methamphetamine deaths now outnumber fentanyl deaths in 12 of the 34 states that report monthly data: Alaska, Arizona, Georgia, Hawaii, Iowa, New Mexico, Nevada, Oklahoma, Oregon, Utah, Washington and Wyoming.
Looking at DISA's Data
Each year, DISA Global Solutions performs millions of drug and alcohol tests for our customers, and each year we publish a high-level summary of this data in our Year End Review. DISA has seen a substantial increase in the number of positive drug tests for methamphetamines, and 2018 was the first year methamphetamines tested positive more often than cocaine or opiates.
While marijuana and cocaine are still primary drivers of positive test results, from 2016 to 2018 the number of positive tests for opiates has increased more than 30%, and methamphetamines are up a staggering 109%.
Below is a chart that shows the percentage of all positive drug tests, by drug type. In 2016, cocaine accounted for 25% of all positive tests, and methamphetamines only accounted for 11%. Two years later, the data tells a very different story with methamphetamines accounting for 20% of all positive drug tests, ahead of both cocaine and opiates.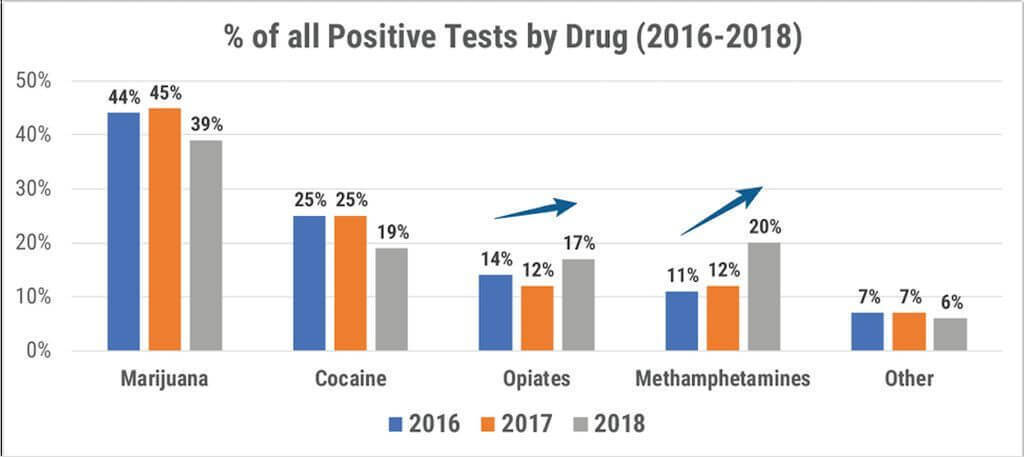 This correlation allows employers to understand how the opioid crisis leads to drug abuse of other drugs and the direct impact it has on workplace drug testing.
Frank Bernard, VP of Compliance at DISA Global Solutions, knows that the more knowledge employers have about the opioid epidemic, the better they're prepared to tackle these problems. Frank shared this advice, "The crisis is leading to additional drug abuse, and it's never been more important for employers to stay aware of the issues, then apply that knowledge to build a more substantial drug testing policy that combats growing trends as they arise."
What Should Employers Do?
Early recognition of drug abuse in the workplace can better prevent consequences and protect the company as a whole. Employers should have a clear and concise written policy, as well as a medical disclosure policy for safety-sensitive positions in which they feel prescription drugs could pose a threat to workplace safety. In addition, employers should ensure that supervisors are properly trained to detect substance abuse in the workplace. Such signs include:
Emotional / Social
Personality change
Mood swings/anxiety
Irritability
Erratic or decreased performance
Drunk/intoxicated at social events
Social withdrawal
Frequent tardiness
Problems with law enforcement
Increased customer complaints
Sudden decrease in work productivity
Physical
Disheveled appearance
Unexpected weight loss
Change in diet
Smell of alcohol
Unexplained minor injuries
Needle marks
Addition of long sleeves
Signs of intoxication or withdrawal e.g. slurred speech, tremors, excessive sweating, dilated or pinpoint pupils
DISA can assist you with creating and implementing a drug testing policy that meets compliance standards. Our training courses are also available to help your staff maintain a safe workplace.
Helpful Links:
Are you an employer and still have questions regarding employment screening?
DISA can help! Get answers directly from DISA's subject matter experts with 'Ask DISA'
Visit www.askdisa.com to ask your questions today.
About DISA Global Solutions
Founded in 1986, DISA is the industry-leading provider of employee screening and compliance services. Headquartered in Houston, with more than 35 offices throughout the U.S. and Canada, DISA's comprehensive scope of services includes drug and alcohol testing, background check, occupational health, and transportation compliance. DISA assists employers in making informed staffing decisions while building a culture of safety in their workplace.